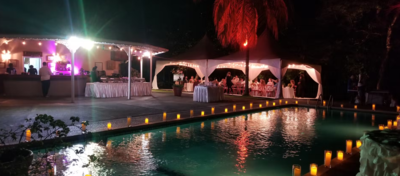 Make your special day all the better by planning your destination wedding at Plantation Beach Villas.
A Caribbean jewel on the island of Tobago, we offer full-service options to make your wedding day all the more special and unique. With personalized service and support from our local service team, we handle the details of planning every aspect of your wedding.
Book your destination beach wedding with us and enjoy the unparalleled romance and beauty of your spouse on the sandy shores and surf of the ocean, or in our beautifully landscaped tropical gardens, then move footsteps through the gardens to our poolside Beach Bar for a reception of your dreams..
After the ceremony, unwind in one of our extravagant oceanfront beach villas, loaded with conveniences and amenities to make your stay as comfortable as possible. Featuring free WiFi, a pre-stocked refrigerator, quick access to scuba diving and catamaran sailing and so much more, your honeymoon begins the moment you finish saying your vows. In addition, just a short distance from premier golfing at Mount Irvine Beach Golf Club and Tobago Plantations Golf Course, there are activities to keep you busy all throughout your stay.
Plan your destination wedding in Tobago. Contact Plantation Beach Villas today to get started!